Bridging The Gap Between Teens and Parents
FROM: ABC NEWS / MARCH 28, 2006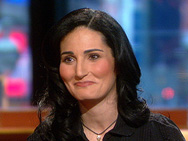 Do you ever feel your teenager doesn't show you enough respect?
A new survey from Seventeen magazine finds the feeling is often mutual with 41 percent of teens saying their parents show them disrespect at least a few times a month.
Atoosa Rubenstein, Seventeen's editor in chief, said it was important to show teens respect because kids are different than they used to be because of empowering influences such as the Internet, teen magazines, and marketers targeting teens.
"Kids are more self-possessed, more goal-oriented, but it also brings complications," Rubenstein said. "These days you can talk to a 13-year-old and he or she sounds like an 18-year-old. Parents still want to treat their kids like they're kids, but they need to give them more of the kind of respect they give adults. This can be confusing and difficult for parents."
Rubenstein said there were common ways parents showed their children disrespect:
- Ignoring your teen
- Cutting your child off before he or she has finished talking
- Doing something else while talking, like answering a cell phone or using a BlackBerry
Healing the Rift
She recommended the following ways for parents to heal the rift with their teens:
Be conscious of how you appear
. Even your facial expressions can spark a message of disrespect. Talk to a spouse or another adult, and watch each other. Let each other know whether you're sending the wrong signals.
Don't interrupt.
This is the simplest thing to fix. You want to make sure your child feels he or she can talk to you without getting the message that you always think you know more than he or she does.
Ask for your child's opinion.
Asking your child's opinion makes a teen feel that you value what he or she thinks. That sends a message that you respect him or her instead of thinking that you always have the right answer.
Use neutral language.
Certain charged words and phrases send the wrong message. For example, instead of saying, "You're wrong," say, "Not exactly." Instead of saying, "That makes no sense," say, "Tell me how that would work."
>>ORIGINAL STORY IS HERE