Despite Sobering Statistics, Girls' Binge-Drinking Is a Growing Problem on Campuses
FROM: ABCNEWS.COM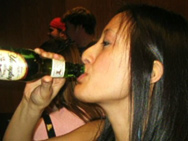 March 10, 2006 —
Drinking to excess has always been a tradition and a problem among college men. But now college women are a growing concern. They're binge drinking in alarming numbers — and not just on spring break. They're out in public, staggering in the streets, falling down drunk, and becoming easy targets for sexual assault.
"They are not only drinking more than their male peers, but they are now more likely to drink more heavily than their male peers," said David Jernigan, executive director at the Center for Alcohol Marketing and Youth at Georgetown University.
Of particular worry are the drinking patterns of women under the age of 21. "There has been a huge amount of effort to stop underage drinking in this country in the last 10 years. It's made some impact with the boys. We are not getting anywhere with the girls," said Jernigan.
Koren Zailckas was one of the many girls who didn't get the message about the dangers of drinking. A bright, happy child born into a stable, affluent family outside Boston, she was a star student at the local high school, but she lost much of her girlhood to the foggy haze of alcohol abuse.
"My friends were all drinking at that time. I was afraid of being excluded from them. … I think that is where peer pressure is. I think we are drawn to alcohol because there is a problem of inclusion there, that we'll be part of the gang, part of the group," said Zailckas.
>> SEE THE FULL 4 PAGE REPORT HERE.