High School Cheerleading: Pompoms and Pressure
FROM: ABCNEWS.COM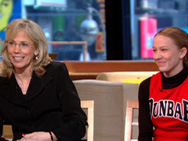 Cheerleading is much more than a sideline sport, as the more than 3 million American cheerleaders can tell you.
Far more than cheering on the guys, competitive cheerleading requires serious physical stamina and mental discipline. It can also be a path to popularity, achievement, and even a full scholarship to college, which is why some parents — mostly mothers — push their cheerleading daughters so hard.
Ryan Martin, a sophomore at Dunbar High School in Lexington, Ky., suffers from a double whammy: Her mother, Donna Martin, is her cheerleading coach.
"I feel like she's always watching me and critiquing me and going to get angry if I do something wrong," said Ryan, who has been cheering since she was 3 years old.
"Cheerleader Nation," a new reality TV show that is shown on Lifetime, follows Dunbar's cheerleading team from tryouts through the national competition. The show captured one mother promising her daughter a cell phone if she mastered a certain cheerleading move.
It also captured Martin pushing her daughter and the other cheerleaders quite hard. Martin, who was a high school cheerleader and has coached cheerleaders for 21 years, said she didn't push them too hard.
"I think there are coaches out there in every sport that probably push kids too hard," she said. "I think the good coach has to learn what each child is capable of, mentally and physically, and they have to learn what motivates those kids and what their limits are."
Knowing the students' physical limits is very important, as Kristi Yamaoka's high-profile injury proved. Yamaoka, a Southern Illinois cheerleader who fell 15 feet and landed on her head when a stunt went wrong during a women's basketball tournament this week, suffered a concussion and a cracked neck vertebra.
After Yamaoka's injury, the Missouri Valley Conference barred cheerleaders from being launched or tossed, or taking part in formations higher than two levels during the tournament.
>>COMPLETE ARTICLE HERE